Ember RV
These RVs are road-trip ready and, while compact, they are full of standard features to support your mobile lifestyle on and off the grid.
View All Ember Inventory
Reserve Your Ember at Introductory Pricing
(Easily unsubscribe at any time.)
Checkout Ember Inventory!
Limited Time Introductory Pricing Through Feb 28th
*Introductory pricing is only available on the first 25 RVs built or scheduled built for Bish's RV. While supply lasts, please see dealer for full details.
View All Inventory
Bish's Salt Lake is a family-owned RV Dealership focused on the principles of honesty, fair dealing, and treating customers right. That's why we chose Ember RV for our off-road adventures. You will not find another RV like this!
View Ember RV Features Below
The Trailblazer Chassis was codeveloped with Lippert, especially for Ember RV. The unique design is constructed of heavy duty reinforced steel tubing, which creates additional torsional stability. This design enhances off-road performance and durability like no other!
Ember's chassis is supported and reinforced by the new, integrated CURT™ Independent Suspension (IS) System. This groundbreaking chassis comes standard on every RV built by Ember. The CURT IS is a high-performance, axle-free design, built for trailblazing RVers that want to leave the crowd noise far behind. The system's innovative design features road dampening shocks and cushioning springs to provide a smoother ride. The Curt Independent Suspension keeps the Overland and Overland Micro running smooth over rough and rocky terrain.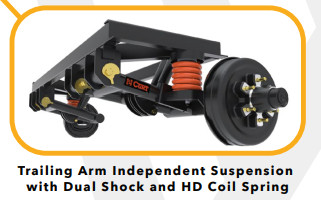 The standard package includes a 190-Watt Go Power!® panel on the roof, along with a 1000-Watt inverter that converts power into the outlets. The solar package comes with Go Power!'s 30 Amp PWM charge controller as well as solar ports on the side and rear. RVers also have an option to choose 1 or 2 Battle Born® LiFePO4 batteries. Ember's "Max Solar Option" comes equipped with three 190-Watt Go Power! panels on the roof, along with a 3000-watt inverter that inverts the whole RV; the microwave, A/C, and power outlets. The Max Solar Package includes a Go Power! 30 Amp MPPT charge controller with Bluetooth and solar ports. Two 100 AH Battle Born® LiFeP04 batteries are included with this package!
The Overland & Overland Micro series have large tank sizes to keep you off-grid even longer. All Overland floorplans come with a 55-gallon fresh tank and ample black and grey tanks. The Overland Micro series, ROK and ROL floorplans come standard with a 26-gallon fresh tank.
All units are equipped with dual 20-pound tanks. Ember RV provides an ideal basecamp for cold weather camping and off-grid trips.
Ember has announced the inclusion of the industry changing Truma® Combi Eco Plus which offers hot air and water from one smart appliance. The Combi's efficient design saves space and reduces weight in the trailer so you can feel free to bring even more gear because you aren't hauling two heavy appliances. The Combi Eco Plus is near-silent and offers the highest available energy-efficiency up to 90%, so you can enjoy a quiet night's sleep while maximizing resources. The Combi Eco Plus' innovative design allows it to operate on propane, electric or both simultaneously.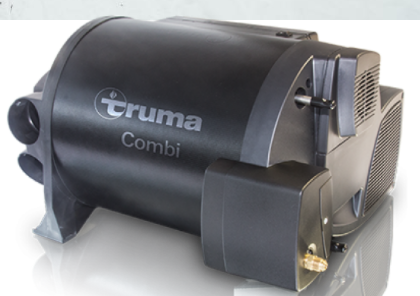 These Nitro-filled tires are built for excellent handling in hazardous weather conditions, and for consistent wear and longer tread life. With Goodyear Wrangler Workhorse tires, your Ember RV can handle rough terrain! Ember knows that durability and safety start where rubber meets the road, that's why including low-quality tires was never an option. The integrated Tire Pressure Monitoring System (TPMS) comes standard as part of our OneControl smart system.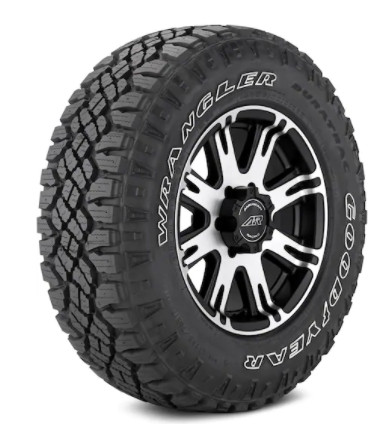 You won't have to waste any water waiting for your shower to get warm. The showermiser will recycle water back into your tank until the water turns warm. Once the showermiser turns a light blue or gray color it lets you know your water is up to temperature.
Ember's VersaCoupler hitching system allows owners to add articulating hitches and even fits a wider variety of tow vehicles, causing less need for adjustment.
Our specialty tongue-mounted gear box adds to Ember's tough look. This houses two 20-pound propane tanks and even provides easily accessible extra storage.
Ember integrated an all-new parking brake system to replace the old traditional RV wheel chocks. All you have to do is pull the brake tight to the tire and your Ember RV won't go anywhere! The integrated parking breaks include a padlock security option as well. Once you are ready to leave your camp site, simply pull the brake back to storage position with nothing to store or disassemble.
The Trailblazer features several products that are never-before-seen, making your camping experience even easier. The aged design of the standard power tongue jack has been replaced with Lippert's heavy-duty front flat jack. This is placed below the A-Frame, making room for more storage. The flat jack retracts and extends with the push of a button and even offers a new level of stability with its triangular design and large footpad.
A lot of customers never think about what's beneath the flooring of their RV but instead of the traditional Wood flooring, Ember chose to use a light weight, eco friendly, rugged and water resistant flooring.
Ember's Steel Fender and Wheel Wells plus Steel Framed Exo Skeleton – Not only are the fenders, wheel wells and exoskeleton rigid, tough and awesome – but they are functional for rugged real world terrain. The wheel wells are tough and support a lot of weight. The steel frame encloses the rubber seal of all five walls. This steel cage will guard the weakest parts of the camper from leaking or taking damage during any off road excursion.